This large hardcover beckons with bright, whimsical shapes that seem almost three dimensional with the help of gold accents catching the light.  They twinkle, inviting us inside. The characters in these illustrations by Lucie Vandevelde include three children and a parrot.  Add to these colorful characters, a house with feet and a face, construction vehicles that have eyes making them come alive, and animals and trees standing out in bright colors against the monochrome "tidy grey city." All these striking illustrations conspire to give a feel of being stuffed to bursting with life, just like real-world cities do.
Outside their window, Leo, Lea and Maya notice strange changes happening around town. Spots of light and color have been appearing without explanation.
Is there a rooftop wizard in town?
Then, in a wild plot of land, there is a deeply loved tree that has reigned over all their favorite days. One day bulldozers arrive and begin to tear up the forgotten bit of land. The children usually love to watch construction, but they are afraid for their tree. They try to stop the machines, but nobody listens to them and their tree is surrounded, like a prisoner. Every day the children watch, terrified that their tree will be cut down.
Happily, one day a bright cloak surrounds the tree and a wildly curving wall of waving colors slowly grows until the tree is gone from their sight. Cut off from their tree, the children find joy in the riot of color. They begin coloring their own home, the sidewalks, and the city soon seems to flow full of colors that were missing before. New trees appear and an order requests every plant for sale in Maya's mother's flower shop. Are they building a forest inside the beautiful new building?
HUNDERTWASSER values non-human residents too
At last a day arrives when the children are able to see the inside of the new building. They meet a man dressed as colorfully as the building they admire. The children assume he is the wizard of the rooftops; in reality, he is Friedensreich Hundertwasser, Austrian pioneer of ecological architecture. "Do you know what has happened to my tree?" Maya asks him. He invites them in to see their tree still standing happily on a new colorful throne. Wizard Hundertwasser asks the children to look after the tree residents of the house.  He tells them they are all residents of Earth together.
This mother-daughter review team loved the way the bright illustrations perfectly capture the way a city can feel magical and alive.  It was interesting to compare them to the photos of the real building site in the back of the book, where historical information about the architect explained the context of the story.
HUNDERTWASSER:THE HOUSE OF HAPPY SPIRITS should appeal to 5 and up, and especially the sensitive folks who worry about trees and plants with whom they might share a special connection in their everyday lives.
 HIGHLY RECOMMENDED
 $14.95
Nominate this for The Picture This Post BEST OF 2020???
Click Readers' Choice
Vote Securely! Vote Privately! And Make Your Vote Count-- as all voting should be!!
 For more information and to purchase this title, visit the Prestel Publishing page for Hundertwasser; The House of Happy Spirits
Images courtesy of Prestel Publishing.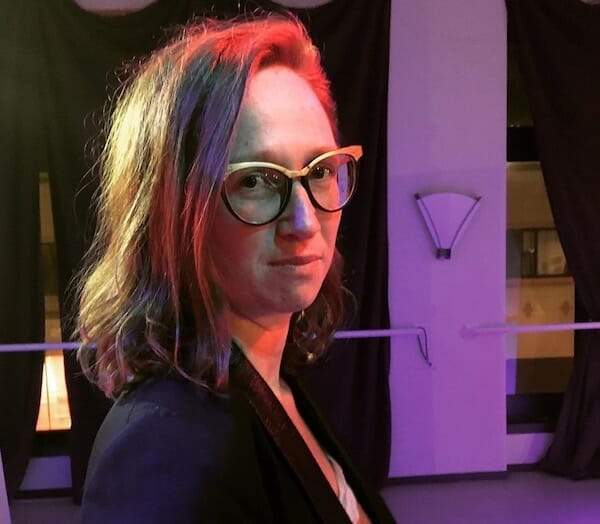 About the Author: Nell Voss and Sylvia Holstein
Why have we ceded so much of our lives and our space to the automobile? 
Nell Voss can think of many better uses for urban space. She spends most of her free time imagining cities with forests instead of traffic corridors and vegetable gardens instead of parking lots. She's also spent a large part of the last fifteen years writing (plays, screenplays, novels and reviews), or directing (plays, films, her child's schedule). She lives in Chicago where she loves to watch plays, read novels, grow food and spend as much of the summer at the beach as she possibly can.