"Oedipus, Oedipus, Oedipus," they groan. Their bodies crumple in primal grief, like dry leaves on fire curling into deformed shapes before they become ash.
This is how we first meet the Greek Chorus: on the bare stage as they give account of the plague that paralyzes their land.  They hope that Oedipus, the king who had freed them of a prior curse from the Sphinx by being the only one to solve her riddle, will do it again.
Were it not for this Greek Chorus doing the telling, signaling the affect of scenes through posture and gesture, there would not be much of a tale to tell. Though the leads are flawless, the Greek Chorus' physical theater steals the show, in this writer's view.  Even better are the gems of Greek Chorus call and response that spice the story near its end.
Soon Oedipus strides in. No worries, he says in so many words, whatever needs to be done will be done. He dispatches his brother-in-law to check in with the Oracle to see what the Gods instruct. If there is something rotten in the land, Oedipus assures he will root it out.  Little does he know that he is the rot personified. The action then unfolds to show how Oedipus comes to see the truth so painfully clear that he feels a need to violently destroy his eyes, so that they will never see again.
American Players Theatre Script and Stagecraft Makes Sophocles Ever Relevant
Throughout, director and adapter of the ancient Greek classic, David Daniel, tells the story of this first mother-luster-lover by mixing the tongue of antiquity with everyday parlance and frames of reference of now. One minute there is talk of ancient reference points—oracles, seers, and such—and then a member of the Greek Chorus says as an aside that she is just a salt of the earth kinda person. It's a chronological code switching of sorts---coming on so fast that it seems subliminal.  It makes for a brilliant and engaging script, in this writer's view.  It's like the script's language is ever  time traveling, making sure we get that the things on Sophocles mind when he penned this play are just as relevant today.  And the main thing we get from this most classic of tales is that to be human is to suffer, as fate would have it that way, whether we like it or not.
Much as the script's tongue wraps itself around eons and eras, so too does the costuming of brilliant blue swirling doodle designs on brighter than white.  It might be a blue that says Greece to many, but it's a hue most modern, or at least born no sooner than mid 19th century.  Jacosta, Oedipus's mother/wife, sports a hoop skirt, that also summons fashion references to Elizabethan times.  When a cast member becomes a blind seer, their costume's hood flips into place.  
You don't need to be a classics scholar to hook into this well-told universal story.  Script, acting, and stagecraft are all top shelf, in this writer's view.  People of Madison, Chicago, Minneapolis and points in between and beyond—this is the sort of performance that should put American Players Theatre on your map.
HIGHLY RECOMMENDED
Nominate this for The Picture This Post BEST OF 2021???
Click Readers' Choice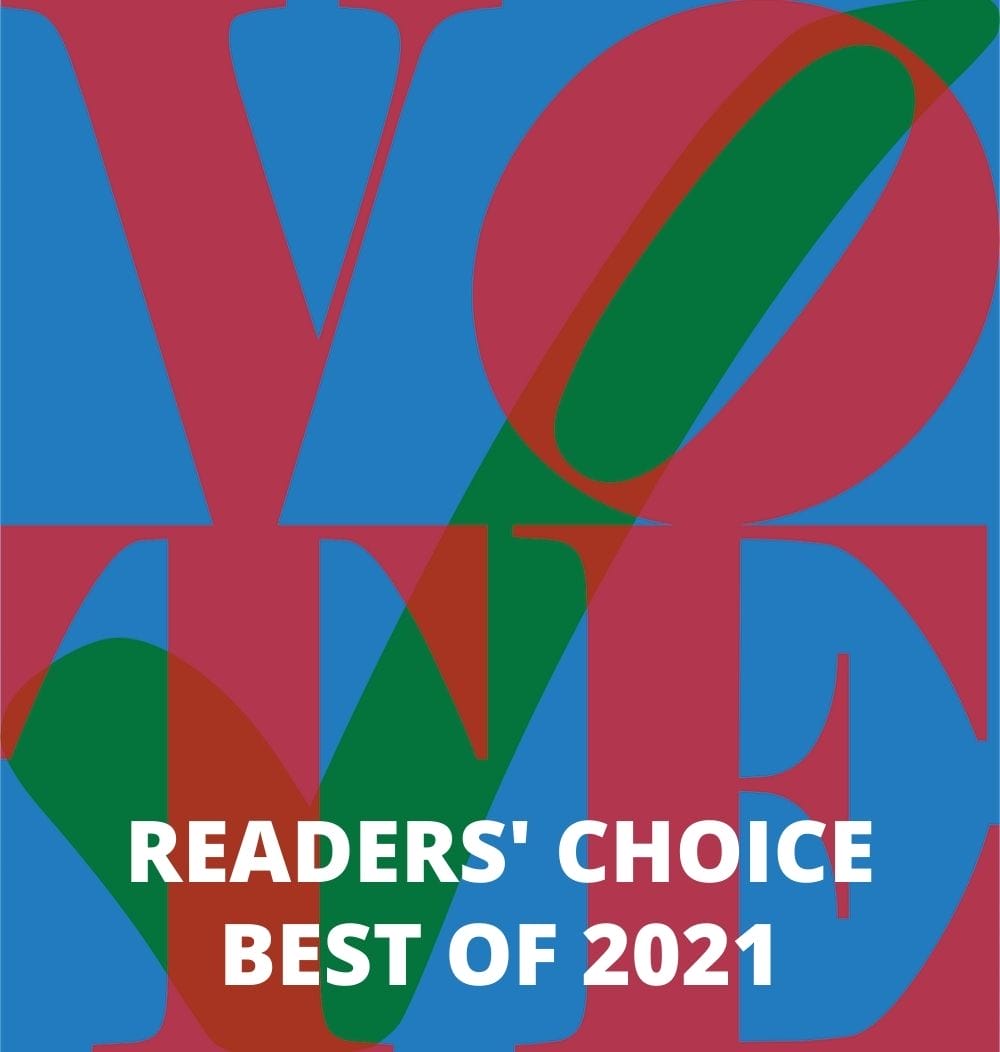 Want to see who won the Picture This Post READERS' CHOICE competition last year?
WATCH THIS SHORT VIDEO—
Oedipus
By Sophocles | Adapted by David Daniel
Director: David Daniel
CAST:
Gavin Lawrence , La Shawn Banks, Sun Mee Chomet, Ted Deasy, Corey Jones, Samantha Newomb, Triney Sandoval, Thallis Santesteban and Marcus Truschinski.
CREATIVE TEAM:
Assistant Director: Jake Penner
Voice & Text Coach: Rebecca Clark Carey
Movement Director: Jessica Bess Lanius
Costume Design: Daniele Tyler Mathews
Scenic Design: Nathan Stuber
Lighting Design: Michael A. Peterson
Sound Design & Original Music: André Pluess
Stage Manager: Jacqueline Singleton
WHEN:
Thru October 9, 2021
Film version – September 27, 2021 - October 9, 2021
WHERE:
American Players Theatre
5950 Golf Course Road
Spring Green, Wisconsin
TICKETS:
$29.50+
Tickets are on sale now online at American Players Theatre website, or by phone at 608-588-2361.
Photos: Liz Lauren
About the Author: Amy Munice
Amy Munice is Editor-in-Chief and Co-Publisher of Picture This Post. She covers books, dance, film, theater, music, museums and travel. Prior to founding Picture This Post, Amy was a freelance writer and global PR specialist for decades—writing and ghostwriting thousands of articles and promotional communications on a wide range of technical and not-so-technical topics.
Amy hopes the magazine's click-a-picture-to-read-a-vivid-account format will nourish those ever hunting for under-discovered cultural treasures. She especially loves writing articles about travel finds, showcasing works by cultural warriors of a progressive bent, and shining a light on bold, creative strokes by fledgling artists in all genres.