Christina Wells sways onto the stage with a playful smile. Wells' attitude and overall look, consisting of a short bleached blonde pixie cut and embellished long flapper-like black dress, captures the glamorous and jolly spirit of the musical, Chicago set in the 1920s. We are delighted as she sings When You're Good to Mama, from the Chicago musical. As Wells sustains her final note the orchestra behind her builds to a big crescendo. This energy causes the crowd to rise and start clapping during this big finale. 
Chicago was one of the 10 Broadway shows showcased during Broadway in Chicago's annual public Summer Concert. Which include a single song from each of the showcased musicals. (See list below.)
Broadway in Chicago's SUMMER CONCERT has Something for Everybody
The ten-show lineup features a variety of music genres from Chicago's jazz to Jagged Little Pill's alternative rock. Nostalgia filled the air—whether from reprisals of great Broadway hits now again on tour like Disney's Lion King and Aladdin and especially for those who grew up listening to the Queen of Rock 'n' Roll, Tina Turner and King of Pop, Michael Jackson.  
Our emotions were sent in all directions by the songs chosen to be performed. With Les Miserables we felt determination and immediacy, while the selected 1776 song was somber expressing the sorrows of war. We felt the pain of longing for acceptance as signature theme songs from Wicked and Dear Evan Hansen were performed.
Meanwhile the charismatic hosts, Val Warner and Hosea Sanders, cracked jokes and provided a brief description of the storyline of upcoming musicals.
This free concert is a yearly event. Broadway enthusiasts will likely be delighted by the performances and the chance to preview upcoming musicals. For those who are unfamiliar with the musicals being showcased. The Summer Concert is a great opportunity to introduce yourself to Broadway, new stories, and genres of music. 
RECOMMENDED
SHOWS
1776
Disney's Aladdin
Chicago
Les Misérables
Tina
Jagged Little Pill
Disney's The Lion King
Dear Evan Hansen
Wicked
MJ
WHEN:
August 15, 2022
Monday - 6:15pm
WHERE:
Jay Pritzker Pavilion in Millennium Park
201 E Randolph St
Chicago
TICKETS:
Free
For more information and tickets visit the Broadway in Chicago website.
Photos: Photos Courtesy of Broadway in Chicago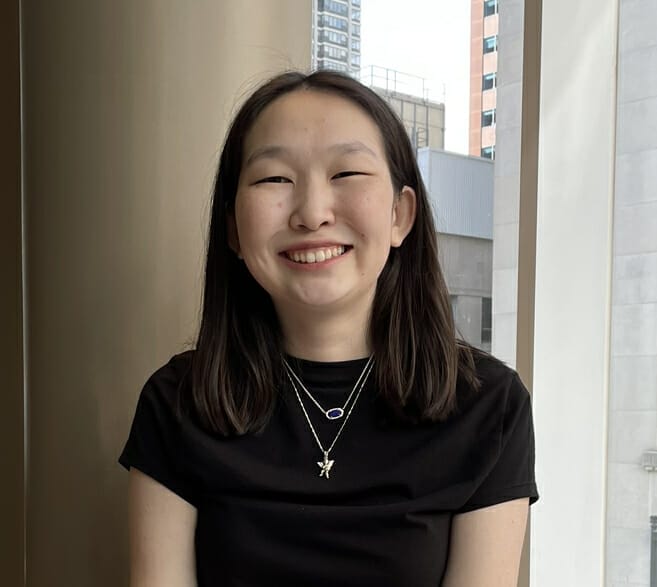 About the Author: Nomin Altansukh
Nomin Altansukh moved to the U.S.A. at the age of nine from Mongolia. For the first two years she couldn't speak English, heavily relying on visual cues to understand what others were trying to communicate. During this time she developed an appreciation and greater desire to study non-verbal communication. Nomin enjoys several forms of art that predominantly use visual rhetoric in its narrative -- paintings, sculptures, film, and theater.
In her free time, Nomin is painting landscapes or watching her favorite hockey team, the Chicago Blackhawks.