Winifred Haun & Dancers — who have a long history of getting Chicago's dance lovers to move their gaze from the floor, to dancers aloft on silks, to stage edges and imagining the beyond – commanded us to attention on Pritzker Pavilion's jumbotron screen. Their new trick— or at least new to some of us – is to make the camera fly above, poking us with an evolving puzzle of whether the dancers are flying, doing gymnastics, or simply morphing into 2D figures you'd expect to find in Egyptian tombs.  Up is down and down is up — check it out!
Riveting! It struck this writer as the more-than-perfect opener for the first ever free-to-everyone Dance for Life, now in its 30th year.
Chicago Dancers United Marks Its 30th Anniversary
For many of us, this was actually the second act in the relatively COVID-safe outdoor venue of Millennium Park where this year's Dance for Life was staged.
The prelude was people watching—spotting notables in the dance world and also the AIDs world, such as Ross Slotten M.D. whose recent memoir, Plague Years**, reminds of the death toll that brought us to the dance, so to speak.  Then, it wasn't COVID, but rather the AIDS crisis and its especially cruel impact on the Chicago dance scene, that had brought Chicago Dancers United to life.  They have been providing financial support to dancers struggling with illness since then—AIDS, cancer, and much more.  How astounding to learn later in the program that funds are plush enough to make their main need getting the word out that they are poised to help.
Winifred Haun's dance film opener was the only pre-recorded performance. Following came additional dance troupes-- Giordano Dance Chicago, Trinity Irish Dance Company, South Chicago Dance Theatre, The Joffrey Ballet, Movement Revolution Dance Crew, Visceral Dance Chicago, DanceWorks Chicago, Hubbard Street Dance Chicago and PARA.MAR Dance Theatre.  As is Dance for Life tradition, a large cast of dancers drawn from these troupes performed there a world premiere by choreographer Randy Duncan, As One, for the finale.
Sans emcee, a few short video tributes did pepper the evening, including a warm-hearted homage to longtime Chicago dance champion Harriet Ross.
Dance for Life regulars might have similarly been struck by how this year's choreography was tilted more towards energy and athleticism, perhaps to fill the Millennium Park-sized space. There were no subtle whisper movements—this was more the movement equivalents of shouts and ample hurrahs. The tagline for many performances could have been powered by sneakers.  The delicate flutters of toes on pointe were not to be seen.  Arms, torsos and legs told stories:  South Chicago Dance Theatre's bold moves brought the year's Black Lives Matter struggles into focus as did much of Hubbard Dance Company's soundscape; Joffrey brought us back to high school days, and two young men finding themselves in each other, just as others coupled too.
Most costumes were black or street clothes, making the red lace leotards of Visceral Dance Chicago even more eye-grabbing.  For this writer, the lace collars of PARA.MAR dancers said – "…of course this is elegant, Stephanie Martinez is the choreographer!.."  Trinity Irish Dance added the touch of rainbow arm ornaments that seemed to underline their signature of taking such a traditional genre to new dimensions.
Ensemble climax moments took us higher and higher—from Movement Revolution Dance, to Hubbard Street Dance Chicago, to the rousing Randy Duncan finale, so aptly named As One.
It's Dance for Life-- dancing, celebrating, persevering and reminding us that community matters.
HIGHLY RECOMMENDED
Nominate this for The Picture This Post BEST OF 2021???
Click Readers' Choice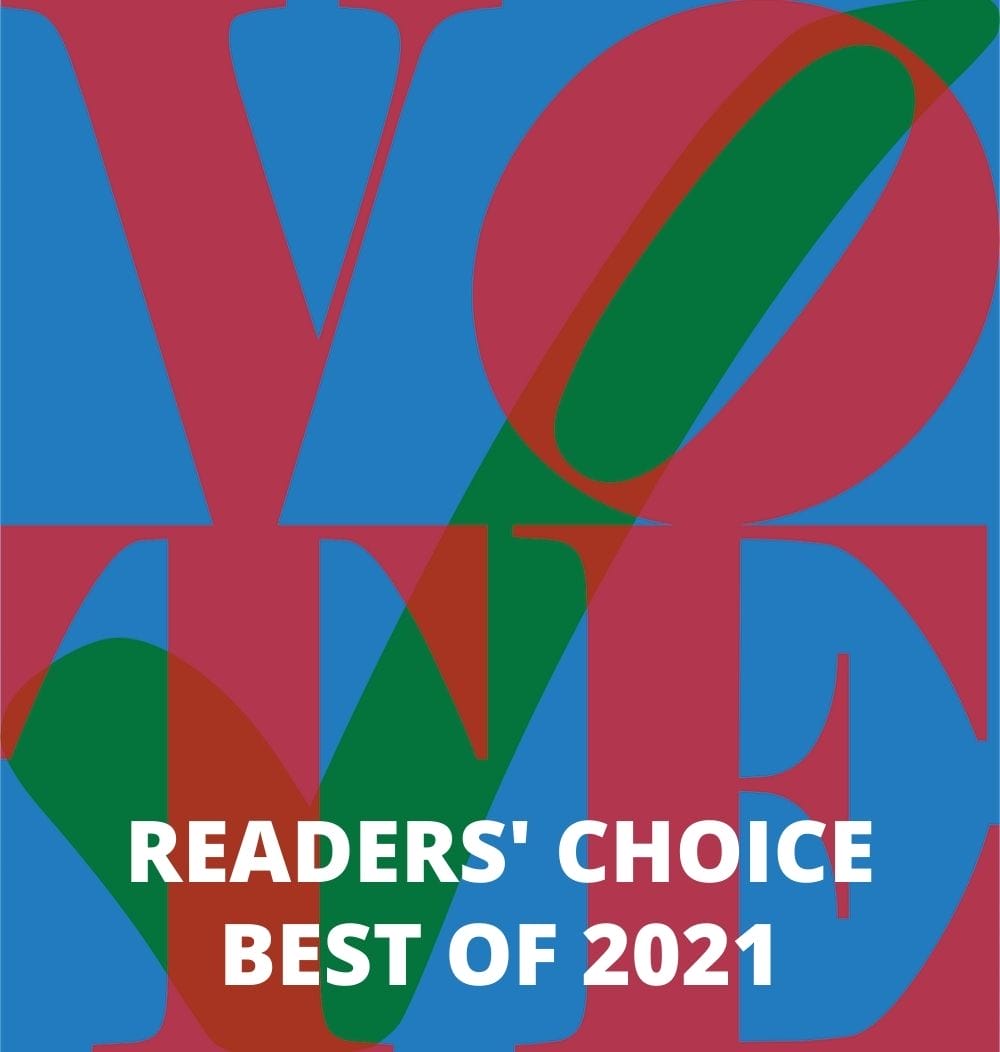 Want to see who won the Picture This Post READERS' CHOICE competition last year?
WATCH THIS SHORT VIDEO—
Bookmark the Chicago Dancers United website for ongoing information about the organization and next year's Dance for Life.
**For more information on Ross Slotten M.D.'s account of the early years of the AIDS epidemic in Chicago, visit the University of Chicago Press page for The Plague Years.
PROGRAM--
WINIFRED HAUN & DANCERS
Press on, regardless (film)
Choreography: Winifred Haun
Music: Michael Wall
Videographer: Sean Rafferty
Dancers: Quint Lattimore & Summer Smith
GIORDANO DANCE CHICAGO
"As One" (2021)
Take A Gambol
Choreographer: Joshua Blake Carter
Music: Maynard Ferguson, Perry Como, Mose Allison, Quincy Jones
Lighting Designer: Jacob Snodgrass
Costume Designer: Joshua Blake Carter, Nina G
Dancers: Tanner Boyer, Brittany Brown, Ashley Downs, Rosario Guillen, Zachary Heller, Amanda Hickey, Adam Houston, Sasha Lazarus, Skyler Newcom, Onjélee Phomthirath, Katie Rafferty, Fernando Rodriguez, Erina Ueda
Set to a score of 1960's jazz classics, "Take A Gambol" features for the first time ever the new entire Giordano Dance Chicago ensemble of 13 dancers. The work was originally premiered in 2018 with a cast of 8, and has been completely re-worked for DFL to include the entire company.
TRINITY IRISH DANCE COMPANY
PUSH
Choreographer: Mark Howard
With contributing choreography by Andrew Vickers
Music: arrangements by Mark Howard
Costume Designer: Cathy Fitzmaurice
Dancers: Michael Fleck, Renae Marshall, Ali Doughty, Chelsea Hoy, Abigail Graham-Luke, Francisco Lemus
SOUTH CHICAGO DANCE THEATRE
Architect of a Dream (excerpt)
Choreographer: Kia S. Smith
Music: Martin Luther King, Bernice Johnson Reagon
Lighting Design: Charlotte Rathke
Costume Design: Kia S. Smith, Shannon K. Washington
Rehearsal Director: Jessica Miller Tomlinson
Dancers: Shannon Washington, Heather Cagle, Kelly Anderson, Sam Crouch, Emmanuel Ramirez, Sydney Jones, Hayley Midea, Louis Pearson, Dorianne Thomas, Klm Davis, Ivan Aguayo, Taylor Yocum, Brenea Thomas, Lourdes Taylor, Amaya Arroyo, Louis Pearson
THE JOFFREY BALLET
The Times Are Racing
Choreographer: Justin Peck
Music: Dan Deacon
Lighting Design: Brandon Sterling Baker
Costume Design: Humberto Leon
Sound Design: Abe Jacob
Staged by Craig Hall
Dancers:
Stefan Goncalvez, Xavier Núñez
Dara Holmes, Edson Barbosa
Anais Bueno, Olivia Duryea, Chloé Sherman, Fernando Duarte
Valeria Chaykina, Anna Gerberich, Gayeon Jung, Brooke Linford, Princess Reid, Miu Tanaka Evan Boersma, Jose Pablo Castro Cuevas, Jonathan Dole, Hyuma Kiyosawa,
Graham Maverick, Aaron Renteria
World premiere: January 26, 2017, New York City Ballet, David H. Koch Theater, New York, NY Joffrey premiere: February 12, 2020, Auditorium Theatre, Chicago, IL
Original Beatles Compositions (SESAC) administered by 2011 Ribbon Music
(SESAC) administered by Domino US Publishing Company (SESAC).
Selections from Dan Deacon's America
USA I — Is A Monster | USA II — The Great American Desert USA III — Rail | USA IV — Manifest
MOVEMENT REVOLUTION DANCE CREW
Dedicated to the Originators
Choreographer: Monternez Rezell
Music: The Originators spoken word- Emcee Monte; Don't Nobody Want Nonte- TechN9n3; Planet Rock- Afrika Bambaataa
Dancers: KC Bevis, Kitta Boylan, Diamond Burdine, Tati Castaneda, Dana Christy, Ashley Esper, Molly Harris, Logan Howell, Trinity Kotarski, Jacequeline Kromash, Jessica Leyva, Terrence Morris, Jr., Natalie Renee, Monternez Rezell
VISCERAL DANCE CHICAGO
Synapse
Choreographer: Nick Pupillo
Music: Darryl Hoffman
Lighting Design: Nathan Tomlinson
Dancers: Braeden Barnes, Meagan Cubides, Meredith Harrill, Tyler Kerbel,
Morgan McDaniel, Michelle Meltzer, Oz Shoshan, Brandon Talbott, Samantha Weeks, Morgan Williams
Commissioned for Visceral Dance Chicago by the Harris Theater for Music and Dance with support from the Pamela Crutchfield Dance Fund through the Imagine Campaign.
DANCEWORKS CHICAGO
Mutter Matters
Chicago Premiere
Choreography by: Charissa-Lee Barton
Music by: Mumbles, written by Clark Terry, performed by Clark Terry and Oscar Peterson; Blue and Sentimental, written by Count Basie, performed by Oscar Peterson Trio;
C Jam Blues, written by Duke Ellington, performed by Oscar Peterson Trio
Costumes by VIN
Dancers: Imani English, Kara Hunsinger, Sayiga Eugene Peabody, Cole Vernon,
Imani Williams
HUBBARD STREET DANCE CHICAGO
This, That and the Third
Choreography By: Rena Butler
Music by: Featured selections include: "Drum & Drone" by Justin Hurwitz from the film Whiplash. "The House Divided" speech by Abraham Lincoln, adapted and edited by Rena Butler, Spanish text translated and spoken by Abdiel Figueroa Reyes, Mandarin text translated and spoken by Connie Shiau, Arabic text translated and spoken by Mirza Shams, English text spoken by Rena Butler and Jessica Tong. "Sculpture," written and composed by Marcin Cichy and Igor Pudlo, published by Just Isn't Music, administered by Third Side Music.
Costume Design: Costume Design by Adrienne Lipson.
Original lighting design by Scott Nelson.
Dancers: Alyssa Allen, Alexandria Best, Craig D. Black Jr., Jacqueline Burnett,
Michele Dooley, Michael Garcia, Elliot Hammans, Alysia Johnson, Adam McGaw, Andrew Murdock, Abdiel Figueroa Reyes, David Schultz, Kevin J. Shannon,
Simone Stevens
PARA.MAR DANCE THEATRE
kiss.
Choreography by: Stephanie Martinez
Music by: Air on a G String, Johann Sebastian Bach Costume Design: Stephanie Martinez
Dancers: Noelle Kayser, Ching Ching Wong, Nathaniel Hunt, Alicia Delgadillo, Myles Lavallee, Chase Buntrock, Brian Martinez
In kiss, we witness the dancers on the perilous journey we all take to find and sustain intimacy - often only felt for a moment, before sliding back into obscurity.
"As One" (2021)
Choreographer: Randy Duncan Music: Ira Antelis
Lighting Designer: Margaret Nelson Costume Designer: Richard Dayhoff Finale Coach: Harriet Ross
Dancers:
Jonathan E Alsberry (Hubbard Street Dance Chicago) Mariterese Altosino (Water Street Dance Company) Craig D Black Jr. (Hubbard Street Dance Chicago) Evan Boersma (The Joffrey Ballet)
Genevieve Brady (Aerial Dance Chicago)
Heather Cagle (South Chicago Dance Theatre)
Ariel M Dorsey
Fernando Duarte (The Joffrey Ballet)
Paige Fraser (Lion King National Tour)
Jack Halbert
Adam Houston (Giordano Dance Chicago)
Ari Israel
Alysia Johnson (Hubbard Street Dance Chicago)
Joe Musiel
Fernando Rodriguez (Giordano Dance Chicago)
Images courtesy of Chicago Dancers United, by Todd Rosenberg and Cheryl Mann as indicated
Photo Slider credits -- from top to bottom:
Danceworks Chicago -  Photos: Todd Rosenberg and Cheryl Mann
Visceral Dance Chicago - Photos: Todd Rosenberg and Cheryl Mann
Trinity Irish Dance Company - Photos: Todd Rosenberg and Cheryl Mann
Giordano Dance Chicago - Photos: Todd Rosenberg and Cheryl Mann
Hubbard Street Dance Chicago - Photos: Cheryl Mann
Movement Revolution Dance Crew - Photos: Todd Rosenberg and Cheryl Mann
PARA.MAR - Photos: Todd Rosenberg and Cheryl Mann
South Chicago Dance Theater - Photos: Todd Rosenberg and Cheryl Mann
Randy Duncan Finale - Photos: Todd Rosenberg and Cheryl Mann
About the Author: Amy Munice
Amy Munice is Editor-in-Chief and Co-Publisher of Picture This Post. She covers books, dance, film, theater, music, museums and travel. Prior to founding Picture This Post, Amy was a freelance writer and global PR specialist for decades—writing and ghostwriting thousands of articles and promotional communications on a wide range of technical and not-so-technical topics.
Amy hopes the magazine's click-a-picture-to-read-a-vivid-account format will nourish those ever hunting for under-discovered cultural treasures. She especially loves writing articles about travel finds, showcasing works by cultural warriors of a progressive bent, and shining a light on bold, creative strokes by fledgling artists in all genres.