"Buckle Up," Hubbard Street's new Artistic Director Linda Denise Fisher Harell announces in her curtain speech before the curtain opens on Hubbard Street Dance Chicago's first performance in 20 months following the coronavirus pandemic shutdown.
The curtain rises to six dancers hunched over; the stage surrounded by large sticks standing up along the perimeter of the space. In silence the dancers rise and reach for the sky before they fall to kneel on the earth in a prayer position. According to the program notes, Nacho Duato's Jardi Tancat, originally choreographed in 1983, follows three couples representing farmers sowing the barren Catalonian land. Spanish singer Maria del Mar Bonet's sorrowful ballads accompany the piece. The dancers' powerful movements stomp into the earth in sync with strong drumbeats while sweeping balletic partnering sequences show a more sorrowful and desperate side of the dancers, reaching for the sky wishing and praying for rain.
RE/TURN, a mixed bill features a little something for everyone. Jardi Tancat, choreographed by master contemporary choreographer Nacho Duato is an old favorite; a piece the company has brought back throughout its' 40-year history while The Seen, choreographed by up-and-coming choreographer Jermaine Spivey veers more towards innovation leaning into the idea of dance as performance art. The program culminates with BUSK, choreographed by acclaimed Canadian choreographer Aszure Barton, a piece that perfectly combines the virtuosity and athleticism that has come to define the Hubbard Street dancers. Each piece takes the audience somewhere new, giving them a taste of the wide range of styles that encompass contemporary dance.
The Seen is industrial and futuristic. Spotlights lie on the floor flooding the dancers with light showing their modern blue and grey tunics. Throughout the piece dancers step up to microphones scattered around the stage repeating phrases about seeing and being seen. The dancers' dialogue explains that we as people may not always see what someone else sees, questioning how we can come together to better understand another person's reality. The words give way to the dancers creating popping and plunking sounds to make their own soundscore. The dancers move across the stage somewhat sporadically and without pattern, weaving in and out of one another sometimes colliding in moments of partnering and connection.
Aszure Barton's BUSK begins with a single dancer, Elliot Hammans, coming down a set of stairs in an oversized suit. As he begins to move, he takes on a Charlie Chaplin-like character with over-exaggerated waving and miming gestures. He handstands into his top hat, gaining a laugh from the audience like a street performer. The ensemble enters wearing all black, something of a mix between suits and hooded robes. They are reminiscent of monks and the operatic choral music that accompanies them enforces that image.
Different characters emerge through mesmerizing solos from dancers Andrew Murdock and Abdiel Figueroa Reyes. Murdock's spine undulates as he moves across the stage so smoothly that his motions seem like a liquid that might just ooze and melt spreading across the floor. In his solo, Figueroa Reyes stands alone in a small box of light, using fast flicking motions repeated over and over that somehow remain continuous and fluid. There is a darkness about the piece featuring these hooded figures and their stark unison motions, but also a humor that emerges with the exaggerated expressions from the dancers; fast-moving hand waves like clowns, faces with tongues sticking out, and the dancers jumping up and down feet flexed the whole time like penguins. Intensely athletic and intricate, BUSK contains an infinite number of layers of music, movement, and character that reveal themselves throughout the work.
RE/TURN has something for all dance audiences, both new and old. The versatility of the program lends itself as an introduction to new audiences, and a re-introduction to dance fans, of everything that both contemporary dance and Hubbard Street can be. Both entertaining and challenging, the pieces give the audience something to think about, while also mesmerizing them with the technique and elegance of the choreography.
RECOMMENDED
Nominate this for The Picture This Post BEST OF 2021???
Click Readers' Choice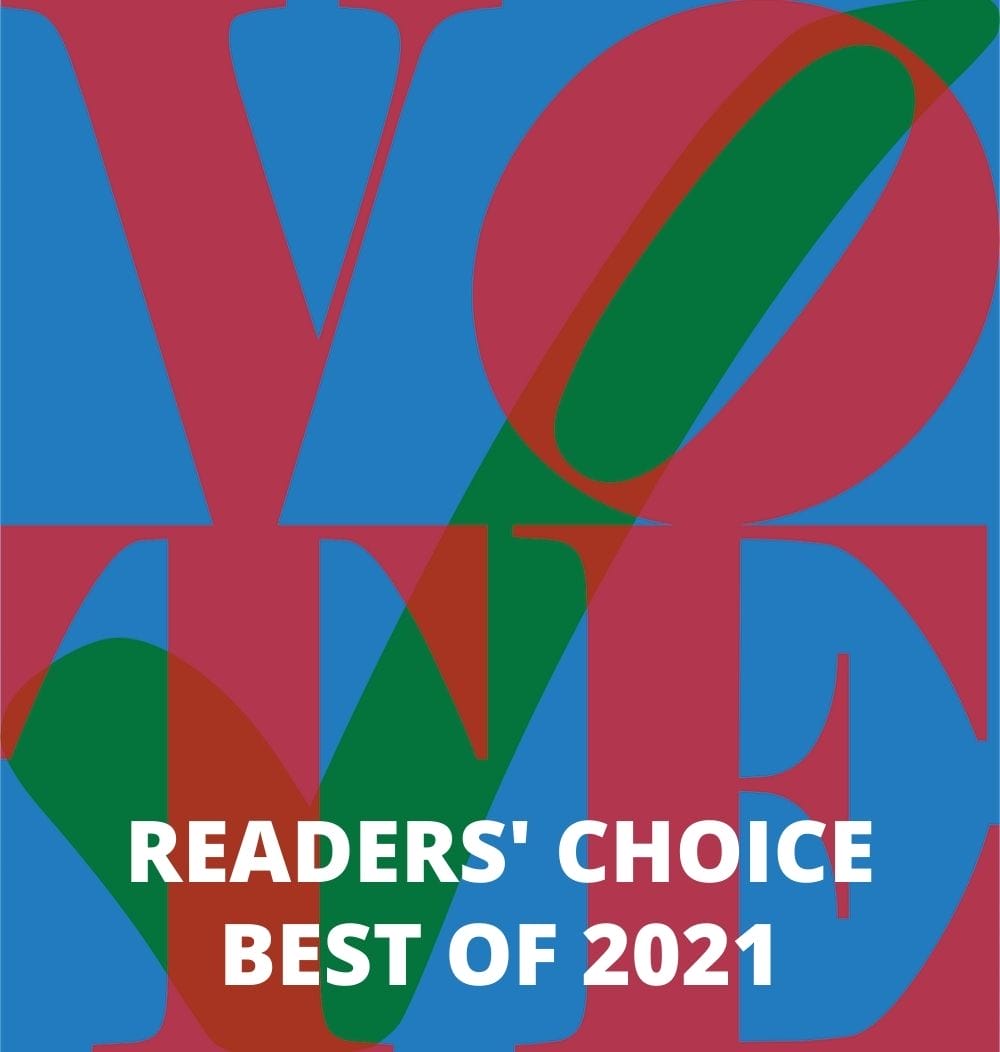 Want to see who won the Picture This Post READERS' CHOICE competition last year?
WATCH THIS SHORT VIDEO—
Jardi Tancat
Choreographer: Nacho Duato
Music: Maria del Mar Bonet
Costume & Set Design: Nacho Duato
Lighting Design: Nicolas Fischtel
Staging: Jim Vincent
The Seen
Choreographer: Jermaine Spivey
Music and Text: Jermaine Spivey
Costume Design: Jordan Ross
Lighting Design: Laurel Shoemarker
BUSK
Choreographer: Aszure Barton
Music: V. de Moraes, August Soderman, Ljova, Moondog, Daniel Belanger, Camille Sanit-Saens, David Wikander
Costume Design: Michelle Jank
Lighting & Stage Design: Nicole Pearce
Staging: Jonathan Alsberry
Featuring the full company of Hubbard Street Dancers
Run Time: 1 hour, 50 minutes
Full disclosure: The author of this review, Hayley Ross,  worked in the marketing department at Hubbard Street Dance Chicago from August 2016-November 2019.
All images courtesy of Hubbard Street Dance Company
Read more dance reviews by dancers in the Picture This Post Round-Up, "Choreographers' Eyes - Dancers Explain Dance".  Watch this video preview of the story here —
About the Author: Hayley Ross
Hayley Ross is a writer, arts marketer, dancer, and fitness instructor in Chicago, IL. Originally from Ohio, Hayley has studied Ballet, Pointe, Modern, Jazz, Contemporary, and African dance and teaches Pilates and Barre fitness classes. She has previously worked for Hubbard Street Dance Chicago, The Harris Theater for Music and Dance, American Dance Festival, OhioDance, and The Chautauqua Institution. She is currently the Advertising and Marketing Manager for the League of Chicago Theatres.