During WWII Jack, a mild-mannered army medic, writes a letter to Louise, a sassy dancer, that catapults a two-year long relationship over letters. In one of their exchanges Louise, a theater lover, acts out a scene from Arsenic and Old Lace. She stomps around her room with slumped shoulders and starts delivering her lines to a chair. Then, she swiftly takes a seat on the chair, changing her demeanor, leaning back on the chair nonchalantly and speaks in a deep voice. We laugh as she argues back and forth with herself taking on different personas. Jack is on the opposite side of the stage and is unable to see Louise's eccentric performance. He is hundreds of miles away stationed at an army camp reading her letter. He looks up with a stunned face and then starts to write back to Louise with excitement and support for her upcoming Broadway audition. 
The stage is broken into two sides. On the right is Louise's room and on the left Jack sits at his desk writing and reading letters. They deliver the contents of the letters as lines as if they are speaking directly to each other.
Jack and Louise are polar opposites at first glance. We see this from the way they write their letters. Jack is formal and reserved, not providing much personal information. At the beginning of their exchanges, he signs his full name in the letters. Louise is witty and blunt. Their differences lead to humorous dialogue throughout the story. 
Northlight Theatre Production Resonates with COVID Times
Their relationship develops by sharing their passions, and the highs and lows of their lives. This is all through their intimate letters. Though they wish to meet in person, the war stands in the way. 
This writer, and apparently many others in the audience were entertained by their funny quick banter. However, we are reminded every now and then of the realities of war. Jack's duties as a doctor in the army prevent him from taking leave. The characters' frustration builds as they are not able to meet each other in person.
For a world coming out of a pandemic and social distancing, Dear Jack, Dear Louise provides a relatable and sympathetic story of the tests of a long-distance relationship in this writer's opinion. Dear Jack, Dear Louise provides an endearing story of love blossoming and overcoming difficult times.
For those who enjoy slow burn romances will love this feel-good story. Theater lovers might also enjoy the many opera and play references Louise makes.
RECOMMENDED
CAST:
Casey Hoekstra as Jack
Sarah Price as Louise
CREATIVE TEAM:
Written by: Ken Ludwig
Directed by: Jessica Fisch
Scenic Design: Yeaji Kim
Costume Design: Izumi Inaba
Lighting Design: Jackie Fox
Sound Design: Eric Backus
Props: Lonnae Hickman
Production stage manager: Rita Vreeland
WHEN:
July 16 - August 7, 2022
Sundays - 2:30pm; and 7:00pm (July 10 and 24 only)
Tuesdays - 7:30pm (July 12 and August 26 only)
Wednesdays - 1pm and 7:30pm
Thursdays - 7:30pm
Fridays - 8pm
Saturdays - 2:30pm (except July 9) and 8:00pm
WHERE:
Northlight Theatre, North Shore Center for the Performing Arts
9501 Skokie Blvd
Skokie
TICKETS:
$ 30+
For more information and tickets visit the Northlight Theatre website.
Photos: Michael Brosilow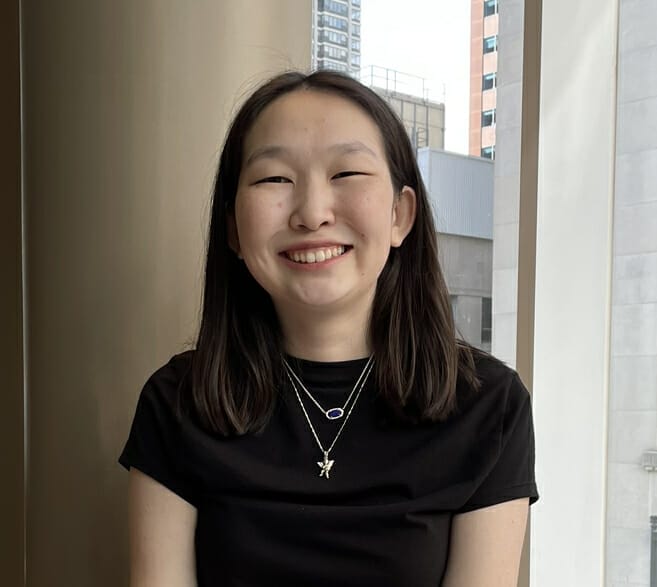 About the Author: Nomin Altansukh
Nomin Altansukh moved to the U.S.A. at the age of nine from Mongolia. For the first two years she couldn't speak English, heavily relying on visual cues to understand what others were trying to communicate. During this time she developed an appreciation and greater desire to study non-verbal communication. Nomin enjoys several forms of art that predominantly use visual rhetoric in its narrative -- paintings, sculptures, film, and theater.
In her free time, Nomin is painting landscapes or watching her favorite hockey team, the Chicago Blackhawks.